Written by

kratzer
BMW 325i e35 192cv and 525i e34 non vanos M50b25 engine.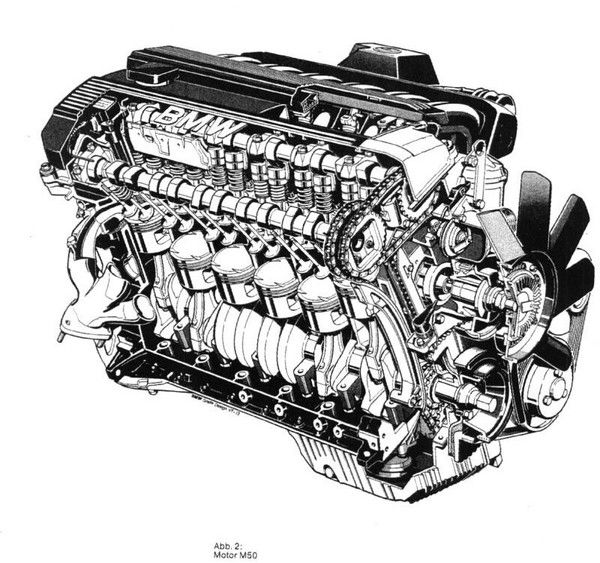 - Power 192 hp / 5.900 rpm Torque 25,0 mkg / 4.700 rpm
- Weight 136 kg, enginde code 266S1.
- Inline 6 cylinder.
- Displacement 2494 cm (84,0x 75,0).
- Compression ratio 10,0:1
- Cast iron block.
- Aluminum alloy cylinder head.
- Double overhead camshafts (DOHC).
- Four valves per cylinder.
- One ignition coil per cylinder.
- Fuel injection Bosch Motronic M3.1
- Max. Permissable engine speed 6500 +- 40
- Two catalyst / one lambda sensor.
- Fuel pressure 3,5 bares.
- Electric fuel pump 3,5 - 4 bar.
- Oil capacity: 6,5.
- Idle oil pressure 0,5 bar, oil presssure 4 bares.
Bosch Motronic M3.1 BMW 325i e36.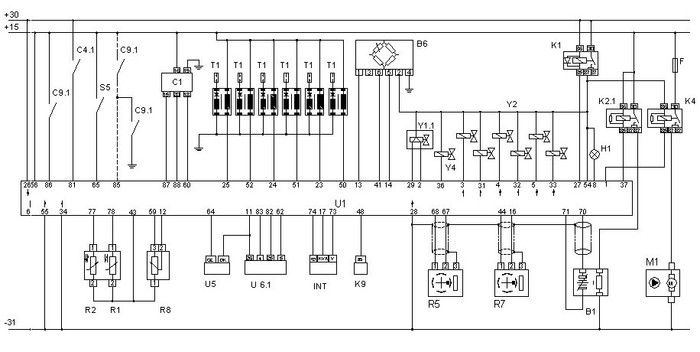 +30 Battery
+15 Voltage: Ingition switch in run
-31 Ground
U1 DME
C9.1 Integrated climate regulation
C4.1 Drive Away protecction signal
S5 Automatic transmission range switch
C1 Diagnosis connector
T1 Ignition coil
B6 Air mass meter
Y1.1 Idle actuator
Y4 Evaporative emission valve
Y2 Injection valve
K1 Engine control module relay
K2.1 Oxygen sensor relay
K4 Fuel pump relay
H1 "Check engine" indicator control
F Fuse
M1 Fuel pump
B1 Oxygen sensor
R7 Camshaft sensor
R5 Crankshaft position/ rpm sensor
K9 Relay (A/C)
INT Instrument Cluster
U6.1  ABS/ASR
U5 Integrated climate regulation control module
R8 Throttle position sensor
R1 Engine coolant temperature sensor
R2 Air temperatur sensor
Written by

kratzer
To celebrate the start of 2014, the web will be published also in English. Gradually we will translate the contents to English.

Written by

kratzer
Tras dar la bienvenida al año 2014 y estar preparando las novedades para este año, que no van a ser pocas, he realizado un balance de la evolución de la web BMWSwap a lo largo del año pasado. Las estadísticas reflejan que el resultado del año 2013 es muy positivo, con un aumento de las visitas de mas de 150%, de las cargas de página en mas de 130%, el tráfico web en mas de 160%, y los seguidores de facebook hasta casi 3.000. Solo puedo decir: ¡Muchas gracias!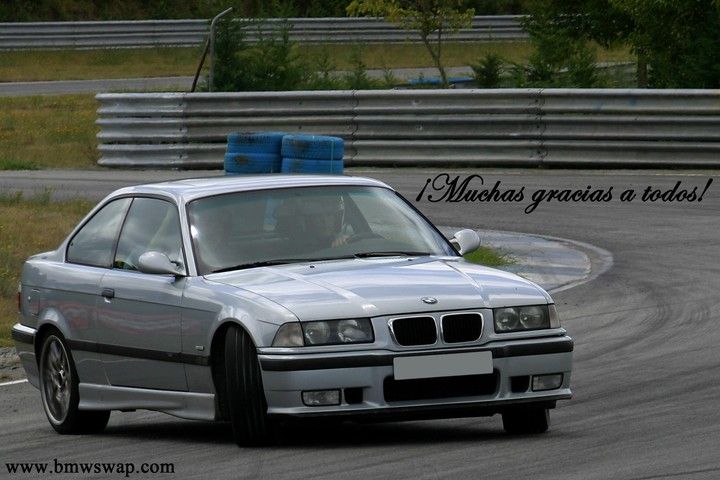 Written by

kratzer
El pasado fin de semana acudí a la quedada anual del foro BMWFAQ del que soy coordinador, que en esta edición 2013 se celebró en el pueblo de Bercimuel, provincia de Segovia. El fin de semana consistió en alojarse en unas casa rurales desde el viernes, el sábado acudir al Centro de Perfeccionamiento de Conducción de Bercimuel durante todo el día, después una cena informal mas unas copas nocturnas en la casa central hasta que el cuerpo aguantase. El domingo nos acercamos a un circuito de karts cercano a echar una carrera antes de ver tranquilamente el Gran Premio de Monza de Formula 1.
El resultado fue un fin de semana excepcional, en el que la tónica general fue el gran ambiente entre los participantes de la quedada, y en la que se pudo descargar un poco de adrenalina el sábado con los coches en el circuito  y el domingo con los karts en el circuito. ¡Fin de semana redondo!
Casa central a modo de cuartel general, donde se podía comer y beber lo que se quisiese.
Written by

kratzer
El domingo 31 de Marzo, sin dormir demasiado y con el cansancio acumulado de tantos días de Rally iniciamos el viaje de vuelta a casa. Unos 1400 km por delante, 300 km para llegar al Ferry y después casi 1100 km hasta Vigo.
Durante el viaje el tiempo no acompaño lloviendo continuamente y con zonas de baja visibilidad por la niebla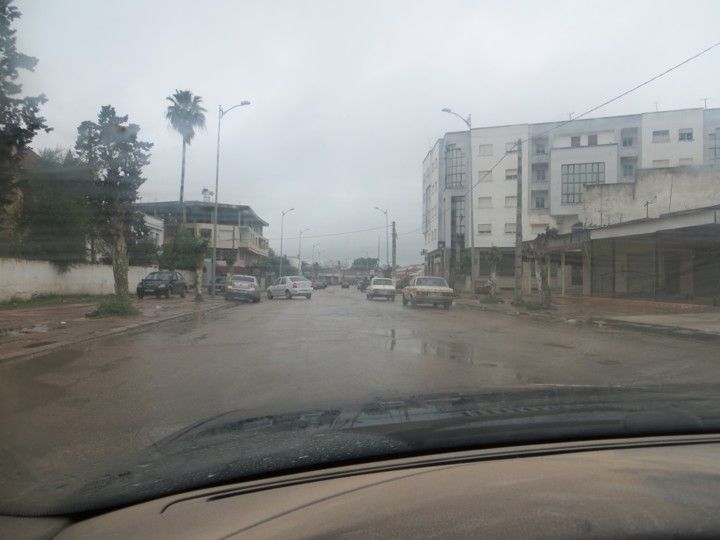 Debido a los numerosos baches por el camino se terminó desprendiendo uno de los riñones de la parrilla frontal.