Written by

kratzer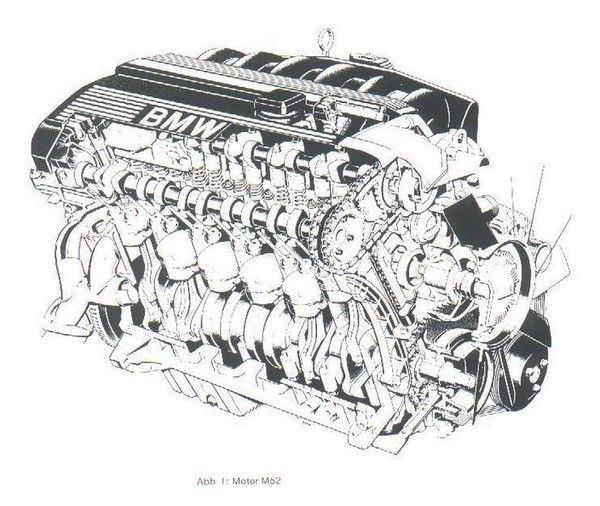 - Power 193hp 5.300 rpm Torque 28,0 mkg 3.950 rpm

- weight 118 kg, engine code 286S1
- Inline 6 cylinder
- Displacement 2793 cm (84,0x 84,0)
- Compression ratio 10,2:1
- Aluminum block
- Aluminum head
- Double overhead camshafts (DOHC)
- Four valves per cylinder
- One ignition coil per cylinder
- Fuel injection Siemens MS41.0
- Max. Permissable engine speed 6500
- Two catalyst / two lambda sensor
- Fuel pressure 3,5 bares
- Electric fuel pump 3,5 - 4 bar
- Oil capacity: 6,5
- Idle oil pressure 0,5 bar, oil presssure 4 bares
Siemens MS41.0 BMW 328i e36 193cv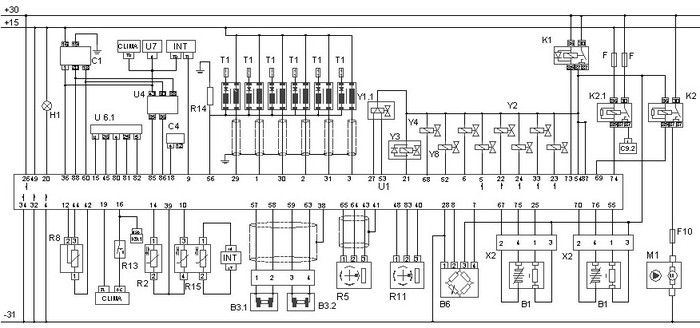 +30 Battery
+15 Voltage: Ingition switch in run
-31 Ground
U1 DME
H1 "Check engine" indicator control
C1 Diagnosis connector
U6.1 ABS/ASR control module
CLIMA Integrated climate regulation control module
U7 Tempomat
INT Instrument Cluster
C4 EWS
T1 Horn
Y1.1 Idle actuator
Y4 Evaporative emission valve
Y2 Injection valve
F Fuse
K1 Engine control module relay
K2 Fuel pump relay
K2.1 Relay (A/C)
C9.2 A/C Compressor
M1 Fuel pump
B1 Oxygen sensor
B6 Air mass meter
R11 Camshaft sensor
R5 Crankshaft position/ rpm sensor
B3.2 Knock sensor cylinder 4-5-6
B3.1 Knock sensor cylinder 1-2-3
R15 Dual temperature sensor (coolant temperature)
R2 Air temperatur sensor
K9.1 Auxiliary fan relay
R13 Resistor 80/88º
R8 Throttle position sensor
Written by

kratzer
In a BMW E30 doing the conversion to a hub of five lugs has several advantages. On one hand there is a bigger market of rims in 5x120 than in the 4x100 that comes as standard and on the other hand the brakes size is increased.
When doing the conversion with parts of an E36 in its most basic version the front brakes are increased from 260 mm to 286 mm and the rear brakes from 258 mm to 272 mm.
- Front axle.
Hubs, struts, breaks, shocks and springs of the E36. It shall be used the E30 strut mounts since the E36 studs are different and it would be necessary to do new holes. The room left to insert the cup to tight the upper nut is small so it is necessary to have a thin cup or to turn it until it fits.
The ideal suspension arms or boomerang are the ones of a M3 E36 321 cv since with a normal E36 or M3 e36 286 arm the wheel is not centered because it gives less advance.
To prevent the wheel from falling behind, it shall be used the eccentric silentbloks from the M3 e30 or a mount that gives extra advance. In any case if the M3 e36 321 arms are not used, there is a new special version of the mounts that gives even more advance in order to be able to do the conversion with the normal arms. For more information about these mounts you can contact us using the following link: Contact
With the struts of the e36 to improve the front breaks it is possible to change only the caliper holder and the break discs by the ones of an e46 of 300 mm. In order to increase the size of the break discs up to the 325 mm the calipers, caliper holders and discs have to be changed by the ones of an 330 e46 either petrol or diesel. In this last case it is important to use rims of at least 17 inches so that the break discs can fit.
In order to use front breaks of the M3 e36 (that has 315 mm discs) the best option is to use also the M3 strut so that it is not necessary to adapt anything since it is different from all other e36.
- Rear axle
Change the whole rear arms with their breaks by a compact e36 or Z3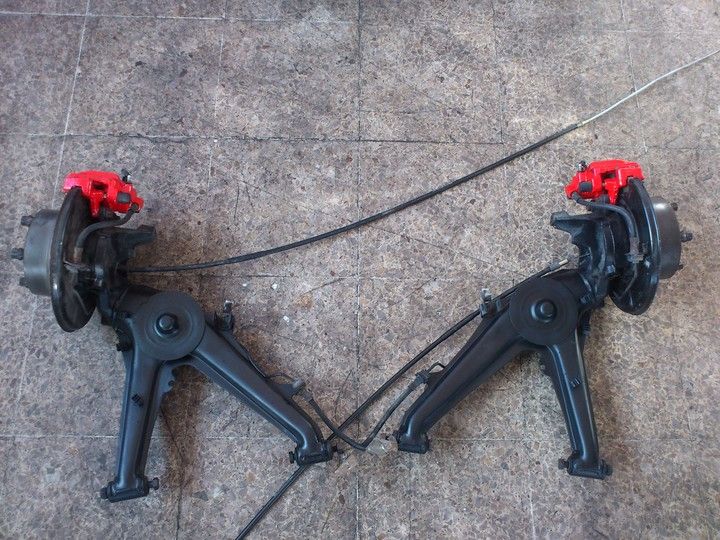 The break lines of the e30 are fully compatible with the new pieces so there is no problem in this sense.
Written by

kratzer
- Engine
Complete M50 engine of an e34 or e36 with accessories and wiring harness. 
M50 engine data at the following link: M50 information
Engine mounts arm of a 6 cylinder E36.
If the engine is from an e36 the oil pan and pickup tube have to be changed by the ones of an M50 E34. They have to be changed because in the e34 the oil sump is in the front part (like in the e30 engines) and in the E36 the sump is in the rear part.
E34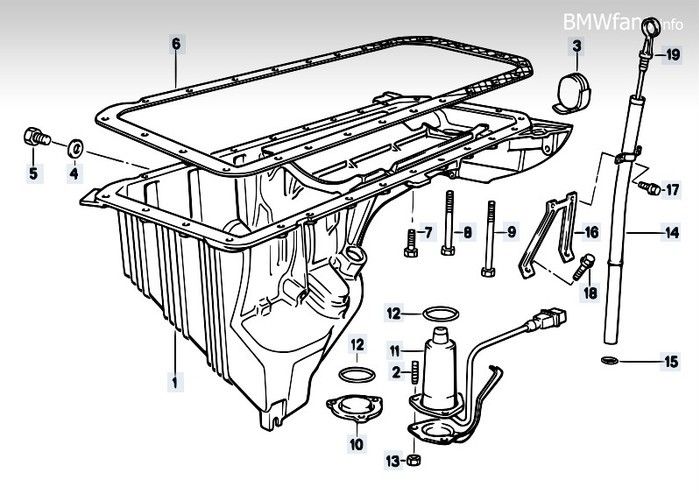 E36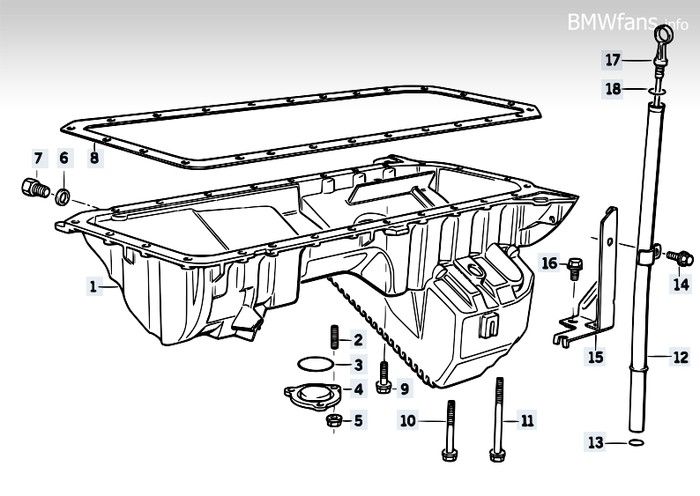 The engine mounts have to be changed by the ones of an e28/e24 M30 or by specific ones for an E30 M50. Depending on the used brake booster it will be necessary to add washers or spacer to lift the engine so that the brake booster does not touch the intake manifold.
At this point the next steps depend on the specific e30, the engine donor, and what we exactly want to do since there are several options. 
For the throttle cable it can be used the one of an de M50 E34, M42 or M20.
- Cooling System
The radiator can be changed or not depending on the car and what we want to mount. 
The radiators with built-in expansion tank of 440 mm can be used (from an e30, e36 or e34) but not the ones of 380 mm since the coupling from the driver side would be too close to the power steering pump and its belt drive. The radiators with external expansion tanks from M20 do not give any problem.
With these radiators there is little room left for the fan clutch.With a radiator from a 28/e24 M30 of 575 mm it is obtained more space between the radiator and the engine to place the fan clutch. To obtain some more room the fan blades can be mounted inside the fan clutch and trim them up in engines with vanos so that they do not graze.
Electric fan: If a fan clutch is not used or to reinforce the cooling system, an electric thermo fan can be installed with two speeds. The e30s with air conditioning have an electric thermo fan that can be reused.
- Gearbox and driveshaft
There are quite a lot of options since many gearboxes are compatible from different generations of BMW (both, in 4 and 6 cylinders).

M20 gearbox: It can be used but it stands rotated several degrees so it is necessary to make modifications in the transmission crossmember, mounts and shifter linkage. With this gearbox it is not needed to modify the driveshaft.
M42 gearbox: It can be mounted without any problem in with an M50 engine but the gearbox will be displaced towards the back so that it is necessary to cut the driveshaft and shifter linkage.
M50/M52 gearbox: It has a different gearbox ratio that the e30 gearbox so the differential ratio would be very short. The differential has to be replaced by a longer one.
318is e30: Differential ratio 4,10
318is E36: Differential ratio 3,38 o 3,45
- Exhaust
A convenient option is to use stainless exhaust headers since they fit well in the e30 and they improve the performance/power of the engine, mainly at high engine speed. It can be used the stock catalyst of an e36 with the rear muffler of a 325i e30. It is necessary to custom the exhaust to join headers, catalyst and rear muffler and modifications are needed to clear the control arm bushing mount.
- Wiring harness
Use this layout as an orientation:
E30 C101 conetor 

M50 X20 conector

1 - Alternator - Blue
25 - Azul
2 - Oil level, Static 
 
3 - 
 
4 - Coolant temperature sensor – Brown/Violet  
12 - 

Brown/Violet

5 - Oil pressure – Brown/Green
23 -

Brown/Green

 
6 - 
 
7 - ECU / DME – Green
21 - Green
8 - Econometer – White/Black or White
24 - 

White/Black

9 - Enginde speed - Black
20 - Black
10 - Oil level, Dynamic - Blue
 
11 - Service interval reset - White/Blue
19 - White/Green
12 - 
 
13 - Fuel pump - Green/Violet 
13 -

Green/Violet 

 
14 - Road speed signal - Black/White
14 - Black/White 
15 - Starter Relay - Black/Green
15 - 

Black/Green

16 -  
 
17 -
 
18 - Starter – Black/Yellow 
 18 - 

Black/Yellow 

19 -  M3 e30 oil temperature
 
20-
 
To make temperature appear in the e30 cluster, the temperature sensor of the coolant of the M50 engine has to be changed by the e30 one.
-E30 pre (<85) with rectangular 19 pin C101:
E30 PRE rectangular conector

M50 X20 conector 

1 - 

 Alternator - Blue

25 - Blue
2 - 

Oil level, Static 

 
3 - 
 
4 -

4 - Coolant temperature sensor – Brown/Violet  

  
12 -

 Brown/Violet 

5 - 
 
6 -  
 
7 - 

13 - Fuel pump - Violet/Red

13 - 

Green/Violet 

8 - 

Starter – Black/Yellow 

 
18 - 

Black/Yellow 

 

9 - 
 
10 - 

ECU / DME – Green

21 - Green

11 - 
 
12 - 
 
13 - 

 

14 - 
 
15 - 

Oil level, Dynamic 

 

16 -

Oil pressure – Brown/Green, Black/Brown

23 - 

Brown/Green

17 - S

ervice interval reset - White/Blue

19 - White/Green

18 -
 
19 - 
 
In turn, the e30 pre have the C104 connector, located in the globe box area where it is set the ECU, for witch it shall be taken into account the following cables:
C104 conector

M50 X20 conector 

1 - 

Enginde speed - Black

20 - Black
3 -

Econometer

 – Yellow/White

24 - White/Black

 
Written by

kratzer
BMW 325i e35 192cv and 525i e34 non vanos M50b25 engine.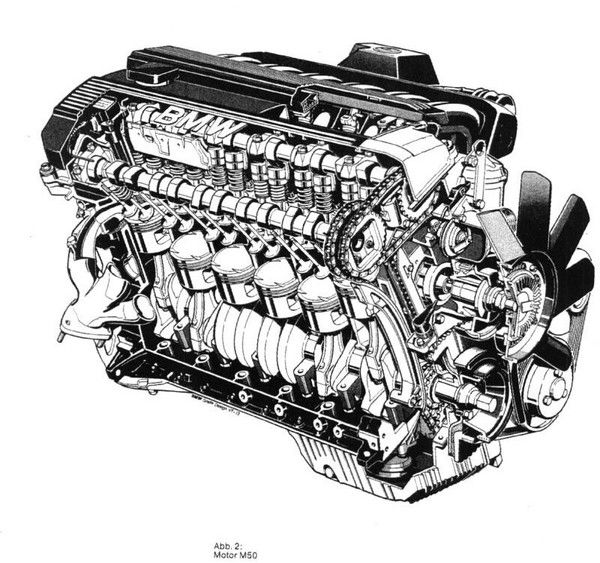 - Power 192 hp / 5.900 rpm Torque 25,0 mkg / 4.700 rpm
- Weight 136 kg, enginde code 266S1.
- Inline 6 cylinder.
- Displacement 2494 cm (84,0x 75,0).
- Compression ratio 10,0:1
- Cast iron block.
- Aluminum alloy cylinder head.
- Double overhead camshafts (DOHC).
- Four valves per cylinder.
- One ignition coil per cylinder.
- Fuel injection Bosch Motronic M3.1
- Max. Permissable engine speed 6500 +- 40
- Two catalyst / one lambda sensor.
- Fuel pressure 3,5 bares.
- Electric fuel pump 3,5 - 4 bar.
- Oil capacity: 6,5.
- Idle oil pressure 0,5 bar, oil presssure 4 bares.
Bosch Motronic M3.1 BMW 325i e36.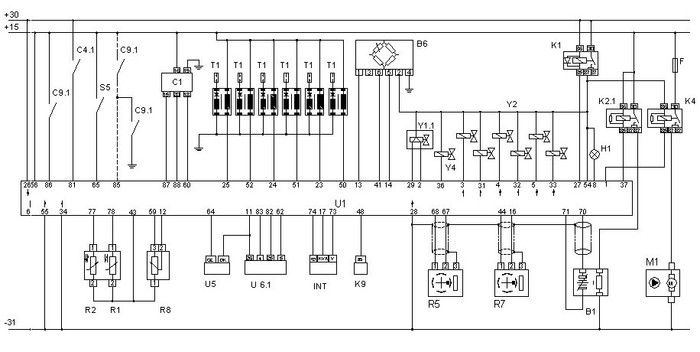 +30 Battery
+15 Voltage: Ingition switch in run
-31 Ground
U1 DME
C9.1 Integrated climate regulation
C4.1 Drive Away protecction signal
S5 Automatic transmission range switch
C1 Diagnosis connector
T1 Ignition coil
B6 Air mass meter
Y1.1 Idle actuator
Y4 Evaporative emission valve
Y2 Injection valve
K1 Engine control module relay
K2.1 Oxygen sensor relay
K4 Fuel pump relay
H1 "Check engine" indicator control
F Fuse
M1 Fuel pump
B1 Oxygen sensor
R7 Camshaft sensor
R5 Crankshaft position/ rpm sensor
K9 Relay (A/C)
INT Instrument Cluster
U6.1  ABS/ASR
U5 Integrated climate regulation control module
R8 Throttle position sensor
R1 Engine coolant temperature sensor
R2 Air temperatur sensor
Written by

kratzer
To celebrate the start of 2014, the web will be published also in English. Gradually we will translate the contents to English.